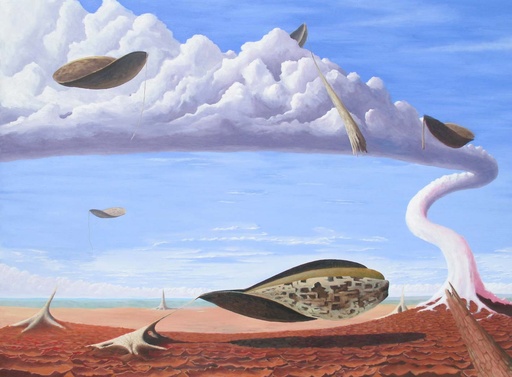 In 1970, the same year Marcel van Duijneveldt was born in The Hague, the capital of The Netherlands, I graduated from the State Academy of Fine Arts in Amsterdam. It might have been circumstantial or a prophetical good luck constellation of the stars in that year, because when our paths crossed in 2000 here in Curaçao, we instantly felt comfortable in each other's company and over the years our spiritual, intellectual and artistic friendship has intensified to the benefit of both of us. In addition to our common admiration for violent genius painters like Caravaggio or Theodore Gericault (among others), we share common memories of cabaret, theater, books and folk tales in the Dutch tradition and we both express a fanatic preference for science fiction movies.
Among the fundamental personal traits of this sensitive fine artist I admire most his modesty and his honesty, presently rare qualities to be found among the younger generation of artists. Their strive for fame and fortune seems to be the guiding force, already displayed during their training years and especially soon after graduation from art school.
Interestingly enough, modesty is not an apparent virtue of Duijneveldt's paintings. On the contrary: out of the wide open prairie-like spaces, topped-off with bulging cloud formations appear skillfully executed triumphantly bizarre and fantastic surreal constructions. The dreamlike, almost Freudian pictorial visions are executed in minuscule detail, reminiscent of works by Yves Tanguy, Salvador Dali, Magritte or Max Ernst. Composed in the good tradition of the surrealist Dada subconscious experience, there is for sure one additional component hidden in his extraordinary architectural and urban structures. Marcel's paintings always display references to the vernacular or human condition of our local Curaçao environment. The red and ochre color in "High Tide" seems to be reminiscent of the earth of so many Curaçao plateaus, cracking in desperate thirst for water. Alien warships or ancient fleets - perhaps left over after the biblical deluge - are hovering above the god forsaken land. Gigantic cloud formations are sucked into snow white snakelike trees or creeping vines reminding us of Dali's dreamlike creations.
As an art teacher, Marcel is transmitting his critical analysis of the island' state of affairs and particularly those of the cultural and artistic community to his high school students, developing and forming the minds of the future generation.
During our endless conversations, discussing contemporary art, politics, lack of institutional support or infrastructure for the visual arts in Curaçao, literature and movies, Marcel's involvement not only shows his spiritual and intellectual engagement but clearly typifies him as a very talented and bright young artist, who has a very promising future ahead of him and who will undoubtedly create more brilliant work in the future.