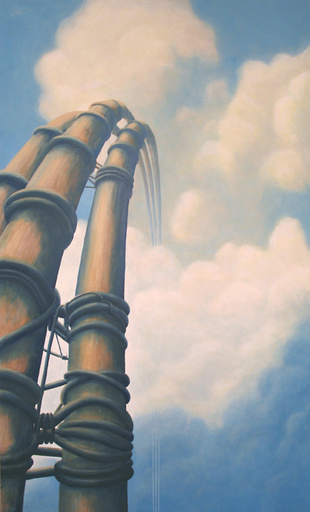 Home Page: http://www.marcelvanduijneveldt.com
Born in The Hague, The Netherlands, Van Duijneveldt studied arts in Leeuwarden. A visit to the island of Curaçao in 2000 changed his world. It inspired the artist so much that he decided to move to Curaçao a year later. He has been working there ever since and has no intention to leave.
"Here on the Island of Curaçao it is so easy to get inspired by nature. The clouds here are magnificent, especially during the rainy season. And the strange shapes and structures created here by nature are almost surreal. But the most striking of all is the light. The paintings I made in Holland were much darker and less colourful. So, to be able to capture the beautiful light conditions of Curaçao, I had to recreate my palette."
When looking at canvasses by Van Duijneveldt clouds, air and endless space are what strike you first; the distance is infinite. Marcel van Duijneveldt is a Surrealist inspired by nature, especially clouds, he translates his surroundings into a surrealistic world. On top of that he plays with the perspective.
The works in the " Art Vandalé " series (literally Art Vandals) are closer to Pop-Art. They sometimes have a critical or ironic comment, but most of them are just humorous, and lighthearted.